Winterfest Is Coming!
Wed Jan 12, 2011 2:07 am by webkinzfan
Comments: 12
February Pet Plush Images Revealed!
Sat Dec 18, 2010 6:38 pm by Emma8432
The February pet plush images have been revealed. There is the Chichi Chihuahua, Aardvark, Majestic Tiger, and Prairie Dog. Here are the images of these fine pets:




What are your opinions on them?


Comments: 2
12 Days of Christmas with Ms. Birdy!
Sat Dec 18, 2010 6:29 pm by Emma8432
Just like last year, there's a 12 days of Christmas event going on in Webkinz! Ms. Birdy, the host who works at the Adoption Center, is hiding around the club house. You must find her each day of Christmas. Every day, you get a prize from her. It's tough finding her, she has no pattern. If you collect all of the prizes, you get a badge. Have fun!

Comments: 1
Retirement
Tue Nov 09, 2010 6:03 pm by Rubber Duckie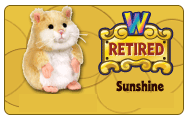 Our beloved mazin hamster pet, Sunshine retired.
Sunshine will no longer be available in stores from now on.
Comments: 0
KI Halloween Trivia Contest
Sat Oct 23, 2010 11:27 pm by Speckles
The KI Staff are pleased to announce an Excellent contest for the Halloween Season! We here at KI have a great Trivia Contest featuring 4 Questions. Just Send in your 4 answers to Me, Speckles, by PM!

Here are the Questions: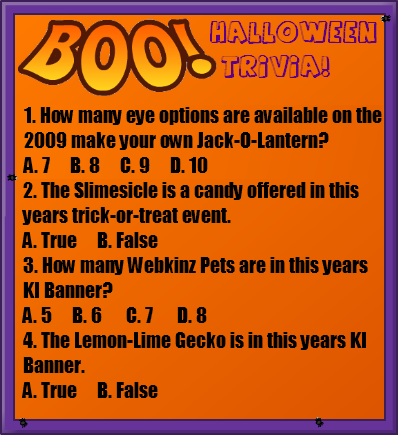 The Prizes!


Now for what we were waiting for, The PRIZES! One lucky entrant who correctly answers the questions will receive A 2007 Creepy Bed and a 2007 Phantom Trophy Pedestal!


Contest open to all register KI members, except KI Founders. Contest runs until 11:59 American Kinztime on Sat Oct. 30th. Winners will be announced sometime on Sun Oct 21st.
Comments: 3
Mazin' Hamsters Are Now In Room!
Fri Oct 01, 2010 11:09 am by Emma8432
Yep, now, Webkinz Mazin' Hamsters can run around in your room, not just in mazes! You can dress them up, go to the club house, your room, the Kinzville Academy, and the Kinz Ville Park! Here are a few screen shots of this new feature:
Comments: 5
Awesome Mazin' Hamsters News!
Sat Sep 25, 2010 11:10 am by Emma8432

Starting October 1st, Mazin' Hamsters will be visible throughout Webkinz World, not just in the hamster habitat! Members can play with 2-D hamsters in their rooms and throughout Webkinz World. This will apply to Mazin' Hamsters that you have already activated as well.


(News brought to you by Webkinz Newz)

Comments: 3
Comunal Contest Sept 18th & 19th
Fri Sep 17, 2010 6:13 pm by KImember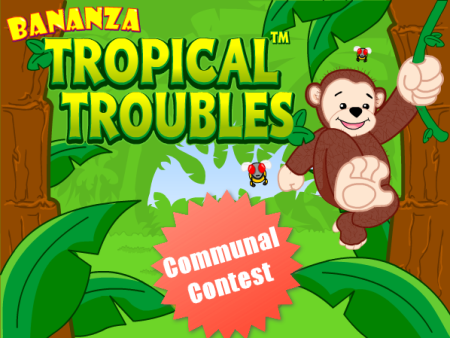 The Communal Contest for the Weekend of September 18th & 19th is Bannana Tropical Troubles. The Prize is the Amplifier Stove. Our goal is to get 5,100,000 points. Good Luck!
Comments: 3
Play Peek-A-Newz Today!
Fri Sep 17, 2010 4:56 pm by Emma8432
Today, September 17th, 2010, Ganz is hosting another round of Peek-A-Newz! If you don't know what Peek-A-Newz is, it is a contest Ganz has been holding for the past month or so. You have to search the Webkinz Newz website for the featured Webkinz host, who is hiding around the site.

This round of Peek-A-Newz, the featured host is Zofia! At 6:00 PM Eastern or Kinz Time, untill tomorrow at 5:59 PM or Kinz Time you'll have your chance to search for her and win a cool prize!


Comments: 0
Golen Suite Theme To Be Available at the eStore
Fri Sep 17, 2010 7:15 am by KImember
Webkinz News has announced that Ganz will be releasing a new "Golden Suite Theme". Deluxe Webkinz Members will be the only members allowed to buy this theme. From Sept 18th-25th special introductory pricing will be available on the three different sets. Most of the items will be available for individual sale, but the Nap of Luxury Golden Bed, King of Karats Golden Fountain, and Gold Cruiser, will only be available in certian sets. (Pictured Below)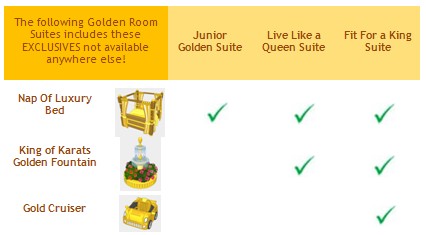 Comments: 1
April 2021
Sun
Mon
Tue
Wed
Thu
Fri
Sat

1

2

3

4

5

6

7

8

9

10

11

12

13

14

15

16

17

18

19

20

21

22

23

24

25

26

27

28

29

30

Calendar
Speckles Info
Poll
What are you doing this Halloween?
Trick-or-Treating

60%

[ 3 ]

Staying at home (to give candy out to kids!)

20%

[ 1 ]

Halloween Dance/Celebration

20%

[ 1 ]

Nothing

0%

[ 0 ]

Other

0%

[ 0 ]
Total Votes : 5
Who is online?
In total there is 1 user online :: 0 Registered, 0 Hidden and 1 Guest :: 1 Bot

None

Most users ever online was 89 on Mon Jul 31, 2017 11:31 am

Statistics
We have 293 registered users
The newest registered user is haralas

Our users have posted a total of 14907 messages in 1758 subjects